Taiwanese master Hou Hsiao Hsien has delivered one of the most rapturously beautiful and romantic films of recent years. Three time periods, 1911, 1966 and 2005 and three stories - A Time for Love, A Time for Freedom and A Time for Youth. The same actor and actress Chang Chen (Crouching Tiger, Hidden Dragon) and Shu QI (The Transporter) play out the two lead roles in each story, evoking a sentimental tale of three reincarnations of an unfinished love. In Mandarin and Taiwanese.
In a worldwide critics' poll, Hou Hsiao Hsien was championed as "one of the three directors most crucial to the future of cinema." His films have attracted rave reviews and have been described as "among the most inspiring of the last 30 years" (Jim Jarmusch). He has been nominated a staggering 7 times for the prestigious Palme'd'Ore at Cannes Film Festival. Despite this his films, remain, inexplicably, badly distributed and largely unseen in the UK.
This screening took place on Thurs 05 April 2007 @ Salisbury Arts Centre.
Further Viewing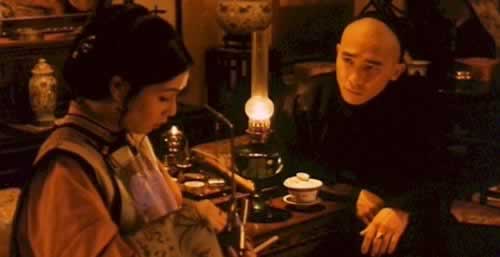 Hou's Films have suffered from poor international distribution and few have been released in the UK. Apart from Three Times, the only other film of his currently available on DVD is Cafe Lumiere. You may be able to find USA or Asian releases (check that they have UK subtitles) of his films on DVD and VHS on ebay or Amazon.
His exquisite film The Flowers of Shanghai is considered one of his best films and is highly recommended if you can track down a copy. Set in a brothel in the 1880's, it is very close in style and subject to the A Time for Freedom section of Three Times. The film reveals the complex social and political relationships between courtesans, concubines, their superiors and their clients.
Good Men, Good Women also takes place over three different time periods reflecting the political climate of each. Again, Hou uses the same actress in different sections, this time by using the narrative device of a film within a film. Millennium Mambo resembles the A Time for Youth Section and also stars Shu Qi. Other Hou films to look out for are City of Sadness and The Puppetmaster.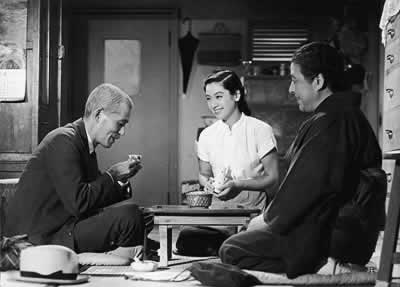 Hou has cited Japanese master Yasujiro Ozu as his key influence and dedicated Cafe Lumiere to him. Ozu's beautifully composed cinematography, use of long static takes is evident in much of Hou's work. Tokyo Story is his masterpiece and often crops up critics top ten lists.
Another asian filmmaker that comes to mind when watching Three Times is Hong Kong's Wong Kar Wai. His early film Days of Being Wild is the first part of a loose 60's trilogy including In the Mood for Love and 2046. Days share many similarities with the A Time for Love Section. It begins with a "one minute friendship" between a restless young man and a woman who works in a bar.
Wai's cinematic style is is in many ways diametrically opposed to Hou and Ozu, using fast edits and jump cuts more usually associated with the French New wave. However, his films set in the modern day Hong Kong such as Fallen Angels or the brilliant Chunking Express recall the frenetic pace of the A Time for Youth Section. All his films make extensive use of voice over's and thematic music, never more so than in Chungking Express, which features several repetitions of California Dreaming, similar to Hou's use of Rain and Tears and Smoke Gets in Your Eyes in Three Times.