Patrice Chéreau's (La Rein Margot) adaptation of Joseph Conrad's short story The Return recreates turn-of-the-century Paris with superb attention to detail. Chereau casts an unrelenting gaze on the marital breakdown that overwhelms a middle-aged bourgeois couple, played with chilling precision by Isabelle Huppert and Pascal Gregory. Featuring sumptuous period photography punctuated with bold stylistic touches and a tempestuous classical score, this dark and commanding study of human nature is a haunting and emotive piece of cinema.
This screening took place on Thurs 03 May 2007 @ Salisbury Arts Centre.
Further viewing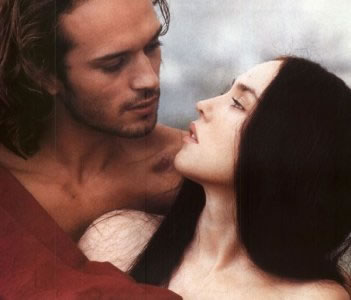 Gabrielle is the sixth film by Patrice Chereau, who has a reputation for pushing actors and audiences to extremes. His 1994 film, La Reine Margot is perhaps his best known work. Set in the 16th century France at the time of the St Bartholomew's Day Massacre, it is an unflinchingly realistic portrait of the time, blending lavish set design with lashings blood and gore. Also causing much notoriety on it's release is his 2001 film Intimacy, which graphically depicts a sexual relationship between two people who almost never talk to each other, and certainly has none of the intimacy that the title suggests.
Chereau's brutally honest examination of the darker side human relationships in Gabrielle recalls the work of Swedish auteur Ingmar Bergman, perhaps the most revered and typically arthouse of all directors. Though the obvious touchstone is his epic TV drama Scenes From a Marriage, his devastatingly powerful film Cries and Whispers, which is set in the late 19th Century is a stylistically closer match.
Unfolding almost entirely inside a plush stately home with blood red walls, Cries and Whispers examines the relationships of two sisters and a maid, who are attending to a third sister who is dying from cancer (typically upbeat Bergman fare!) Bergman exposes the cracks in the relationships between the sisters and their husbands, revealing deceit, hatred, guilt and fear.
In one particular scene that lasts just a few minutes, contains several similarities to Gabrielle. One of the sisters, Karin, and her husband sit almost speechless at opposite end of a large dinning table while a maid silently serves them dinner. At a crucial point in the scene, Bergman used the dramatic device of a wine glass breaking and wine spilling, in much the same way as Chereau has Jean dropping the decanter as he reads Gabrielle's note. See also how Karin at first pushes the maid away (who has been silent witness to the breakdown of her marriage), but eventually confides in her. Chereau re-enacts this in the bathroom scene in Gabrielle.
Else where in Cries and Whispers, Bergman films a conversational scene silently, but accompanied by cello music, a device Chereau uses at key points in the Gabrielle. Also look at the funeral scene. The outfits worn by the sisters are very similar to the one worn by Gabrielle when she returns after leaving the note, as if she is in mourning for the relationship she is leaving behind.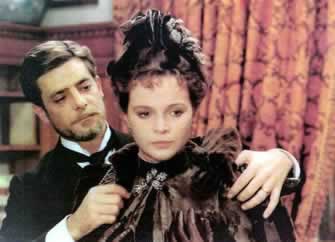 Another director that comes to mind when watching Gabrielle is Italian Director Luchino Visconti. Towards the end of his career he made several beautifully composed but less than sympathetic films about late 19th Century Italian Aristocracy. His last film L'Innocente scrutinises the marriage of a well to do society couple. We learn that both are having affairs but for the sake of keeping up appearances can never be quite separate from each other. Both know of each others philandering, and in one particular scene the husband is seen to almost ask for his wife's permission to have an affair. In a role reversal of Gabrielle and Jean, his cold treatment of her as he describes in detail the passion he has for his lover, leads her to remark "you treat me as if I wasn't here". See also, the similarities between the scene at a society party and the dinner party scene in Gabrielle.